Posted by
Elena Galitskaya
on Mar 15, 2012 in
Social Networking
,
Web 2.0
|
Comments Off
Social Sharing tools are the technology behind embedding of buttons and other widgets onto your website to encourage social sharing, recommending or bookmarking within your site and blog.
Despite their ability to spread your content, increase your traffic and even aid your SEO efforts, many sites are still ignoring or not using the right sharing tools. The infographic below from popular sharing service AddThis shows why it is essential to implement these tools effectively.
Why do people share content?
Making the best use of Social Sharing technology requires content that is worth sharing in the first place. A great piece of research was conducted by the New York Times Consumer Insight Group on why people share online, well worth a read if you are creating content and wanting to understand how to encourage sharing. You can view the report here. The 5 reasons people share content the report highlights (in order) are:
To bring valuable and entertaining content to others
To define ourselves to others
To grow and nourish our relationships
Self-fulfilment
To get the word out about causes or brands
Which sharing tools are available?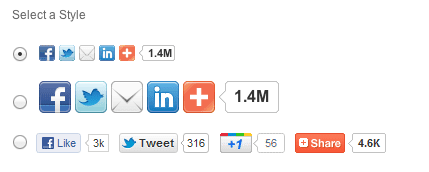 This is straightforward. The are 3 main services are:
We recommend the third approach since the top two tools, while easy to use do not update to show shares from other sources such as social media management systems like Hootsuite orTweetdeck. Using the native services of Facebook, Twitter and so on will check in real-time to see what the latest number of counts are. To help here, plugins are available for CMS such as WordPress, Drupal, Magento etc. We use the Yoast "Social Buttons"since they are flexible and include tracking in Google Analytics and GetClicky.
Each social media site has its own range of share buttons and badges, they are very similar to widgets though focus on one application of course, for example Facebook's "Share", Twitter's "Retweet" or StumbleUpon's "Stumble" – and the button du jour – Google+1!
If you are however looking at systems that incorporate sharing with social login which helps create a much richer user experience you would look at services such as Gigya & Janrain, while they require larger budgets the service level, quality of product & features are impressive.
Which networks should you include?
According to social sharing plugin AddThis, Facebook is far and away the number one place where people share content through their widget, taking 39% of the pie, Gigya recently claimed it was 44% on their blog as well. The point is to consider that around 60% of shares are being made outside of Facebook – so at least include Twitter and with their recent improvements and the launch of "plus your world", Google+. Others would be largely determined by your audience, B2B would absolutely include LinkedIn for example.
Source: SmartInsights
Related Posts: