Posted by
Iryna Dubenyuk
on Mar 13, 2012 in
Web 2.0
|
Comments Off
The Social Media Benchmark is a new, six-monthly study exploring how marketers are adapting to, investing in and getting value from social media.
This is a major, ongoing initiative from The Chartered Institute of Marketing which is supported by Ipsos ASI and Bloomberg. You can see from the names behind this research is not just, a poll, instead it's a major research programme.
It's intended to help companies understand how they can get value from social media marketing through publishing regular waves to benchmark against. The first wave of 1500 marketers was surveyed late in 2011 and announced last week with the next wave due in June. The detailed research hasn't been published, but a useful summary in the form of this infographic has been published.
Although interesting, it's possibly the longest, densest infographic ever, so I'll pick out what caught my eye first…
1.  Which tactics are used
First, before the serious stuff, a simple analysis showing which platforms are being used. It's surprising that Twitter is significantly higher than Facebook, perhaps reflecting fears of control of Facebook and Twitter's value in customer service and promotions. You Tube is significantly less popular.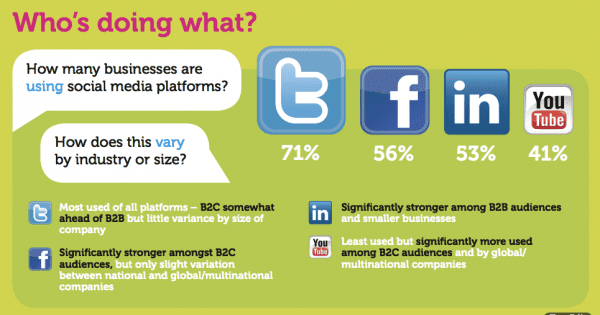 2. How is social media marketing being managed?
This is much more interesting – you can see many have dedicated resource, but few have a full-time social media manager instead, in a third of cases, responsibility is spread across people in the marketing team. Our recently published, in-depth 7 Steps to Social Media Strategy Guide shows how marketers can structure teams and develop a strategy based on content marketing.  Surprisingly few have outsourced to a third-party.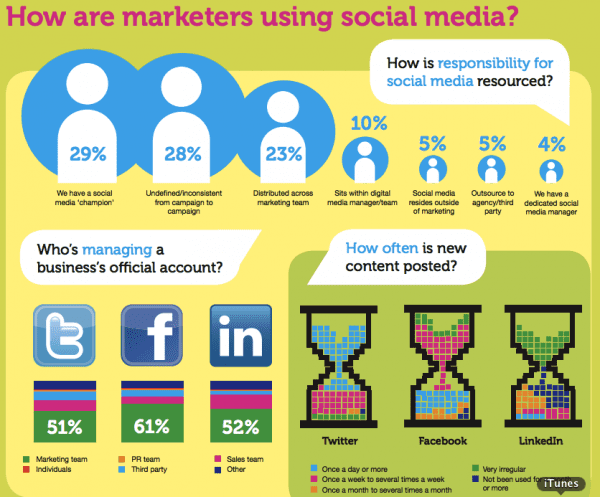 3. What returns are being achieved?
Even more interesting, the report paints a relatively dark picture of the effectiveness of social media.
34.5% of the 1,500 marketers polled said that their social media activity in 2011 was "not at all effective", with only 13.7% reporting it was "extremely effective".
The majority of marketers polled see social media as a tool to engagement (37%), or as support to other channels in a campaign (46%).
Looking at individual social channels – there are more rating the channel as not at all effective rather than extremely effective, especially for LinkedIn and YouTube. Twitter seems to be big winner in this report.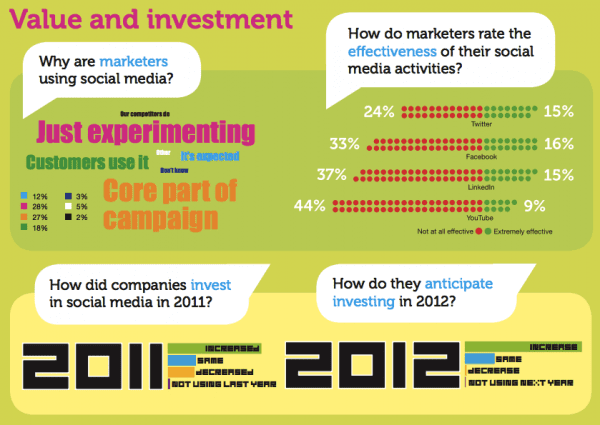 Alex Pearmain, head of social media at O2, interviewed as part of the report says it is in engagement and not direct response where social media will prove successful for marketers.
"Social media can make money, but businesses need to have a broader view of how it can do this. If someone invests in direct response and wants a return within 10 days, I would query the use of social media. However, if it is a longer-term approach to drive customer engagement and customer value, then social media is more appropriate."
The full infographic
There's more! Here is the full infographic.

Source: SmartInsight
Related Posts: