Posted by
Elena Galitskaya
on Nov 2, 2011 in
IT
,
Social Networking
|
Comments Off
With so many of today's HDTVs packing in web features, we are used to having that big screen do a bit of multitasking. However, we could always use some of those options in our actual TV viewing. Panasonic just announced an upgrade that will add the Internet Social Network application to some of the manufacturer's HDTVs. This will allow users to access Twitter and Facebook while simultaneously viewing programs on any VIERA Connect-equipped 2011 VIERA HDTV.
That means you'll be able to comment on favorite TV shows and movies, all while you're watching TV. Of course, it also allows you to keep up with friends and family during your favorite pastime.
Panasonic's Internet Social Network app joins other app favorites, including Netflix, Amazon Instant Video, Hulu Plus, Skype, Pandora, Fox Sports, and much more. Like the new offerings, many of the apps are free to download.
"Panasonic prides itself on listening to consumer opinions and acting upon those suggestions to provide the best possible entertainment experience," said Merwan Mereby, VP of Panasonic Corporation of North America. "Our thorough research pointed to a desire to be able to watch content on the TV, while at the same time being able to tweet on Twitter or update your status on Facebook. With that in mind, Panasonic has, with the new Social Network app, expanded and enhanced the functionality of Internet TV and provided users with functions they were looking for. Connected TV will continue to become an increasingly important feature for consumers and Panasonic is working tirelessly to build upon the already robust entertainment and connectivity experiences our VIERA Connect customers can enjoy."
The Internet Social Network app is available on Panasonic's VIERA Connect-quipped 2011 HDTVs and subsequent models.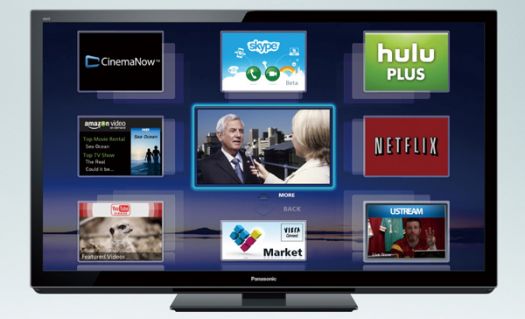 However, being able to keep connected is not the only new VIERA Connect feature, so you can expect a little something extra in that software upgrade. Panasonic says that they will also offer two new app options. Look for the gaming application PlayJam, as well as Bollywood movies and videos via BigFlix.
All three applications are available for no additional fee. However, BigFlix offers on-demand movies and PlayJam features multiple game apps, so you may want to keep that credit card handy. Panasonic says that they are planning a holiday promotion, offering users the chance to download three games from Gameloft, including Asphalt 5, free of charge. Details on that promotion should be coming soon.
In addition to VIERA Connect-quipped 2011 HDTVs, Panasonic says that subsequent models will also be able to enjoy the latest lineup of apps that are available.
"When combined with Panasonic's award winning Full HD 3D VIERA HDTVs, the enhanced VIERA Connect Internet platform provides the consumer with exceptional entertainment value and variety," said Mereby.
Source: BigPictureBigSound
Related Posts: